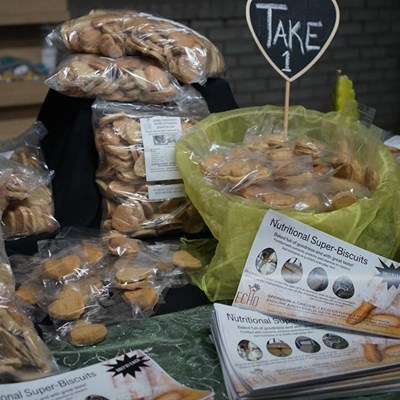 GEORGE NEWS – Carl van Blerk, Owner of Echo and founder of Garden Route Food Pantry, wrote the following heartfelt appeal for sponsorship to Garden Route residents:
"One in four children under the age of five is stunted, one in eight is overweight. Severe acute malnutrition is one of the three leading causes of child deaths!" – SA Child Gauge 2020
This shocking statistic is a sign of the terrible times we experience daily in South Africa, and it's not getting any better. The food that our children are getting, if any, holds very little nutritional value and is severely lacking in the important nutrients, vitamins and proteins required for healthy mind and body development.
Sadly, even the quality of fresh produce no longer holds the abundance of "good stuff" it once did, due to the advances in genetic modification and the poor soil conditions many of our regions have.
For this reason, Echo, under the ownership of myself, Carl van Blerk, who established the Garden Route Food Pantry in George, has spent much time and resources developing a super-biscuit that is not just tasty, but also contains a boost of natural micronutrients to build the healthy system that children need so urgently.
The heart-shaped biscuits are made from scratch in our kitchens in George, with the aid of a specialised biscuit moulding machine that can produce thousands per day – essentially saving lives.
We have the staff, the facility, the recipe – but now we need the funds. The children who will benefit are of the poorest in our communities and do not have funds available to purchase biscuits themselves.
We have identified several playschools, crèches and early childhood development (ECD) centres that we feel will benefit most, ensuring each child gets two biscuits each day – this amounts to 20g of biscuits, not to replace a meal, but as a snack that provides all the essential micronutrients each day.
The cost is just R2 per day, per child – or R10 per week. A small price to pay for the benefits of the super-biscuits.
As our schools average approximately 50 children each, we are looking at a monthly sponsorship of R2 000 (for a school or centre of 50 children). This will help us ensure that all the children get a tasty and extremely healthy treat every day!
For a lower or even higher sponsorship amount, we are happy to pair you up with a smaller or larger school or centre that can match your budget. Please ask about our "Friends of the Food Pantry" as a more affordable option available at only R100 per month.
Tax benefits
How about a sponsorship that can benefit us both? Due to our partnership arrangement with Community Action Partnership (CAP NPC), we can also provide you with a Section 18A tax certificate. Natural persons, trusts, companies or close corporations can claim as a deduction from their taxable income, amounts donated to any Section 18A approved organisation up to a value of 10% of their taxable income.
This way, you help us save lives, and the cost to you is minimal, if anything at all. Please discuss this option with your tax practitioner for verification.
Our goal is to be providing 1 000 children with our super-biscuits each day – please help us make this a reality.
Adoption
Once you have approved our request, we will assist you in selecting a child care facility, crèche or ECD centre to adopt – a certificate will be issued to both you and the centre to confirm the support, and regular updates with photos will also be provided to you and your company. This way, you will grow to know your beneficiary and become part of their amazing story.
Next step
This part is easy. Simply reply to us at your earliest convenience and confirm your adoption with an indication of the amount of funds you can contribute monthly.
Once received, we will send you some names of centres, to select the one you would like to support.
We will also drop off some sample biscuits for you and your staff, to sample the great taste.
Please help us make a difference.
For further information or to sample the biscuits, please contact Van Blerk directly on 082 826 0731 or carl@echo.org.za.
The recipe was developed in conjunction with Cape Peninsula University of Technology (CPUT).