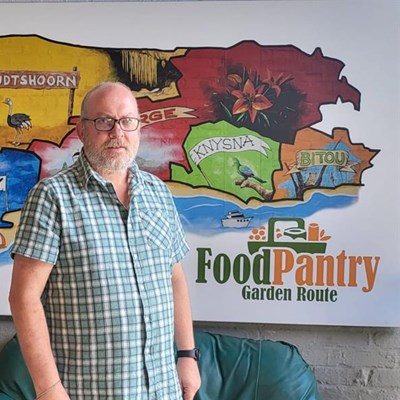 GEORGE NEWS – The former Garden Route Food Pantry, which was operating under the banner of SA Harvest Garden Route for the last few months, went on its own again from the beginning of April.
This was confirmed by Carl van Blerk, MD of the Garden Route Food Pantry.
The Garden Route Food Pantry changed its name on 1 November when SA Harvest came on board, which was to bring more advantages to the operation and would benefit the local residents in need.
Van Blerk said at this stage he is unable to provide more details regarding the reversal. "The matter is now in the hands of our attorney. A full statement will be released at a later and more appropriate stage." He stressed that the organisation is going on with its work at the premises in Glaze Street. The aims and vision to eradicate malnutrition and end hunger remain uppermost.
Van Blerk established the Garden Route Food Pantry in January 2021 and it was officially opened in February last year by Western Cape MEC of Human Settlements, Tertuis Simmers.
For Van Blerk it was a dream come true. He had dedicated over a decade to charity and community relief projects as one of the founding members of the Eden Lions Club.
Over the years he had always dreamed of setting up a food bank to address the severe hunger that plagues the Garden Route.
The Garden Route Food Pantry is an NGO that aims to address the massive wastage of food (a third of all food produced in SA goes to waste), to provide a range of highly nutritious and fortified foods.
It also assists and trains feeding centres and soup kitchens to grow their own produce to feed their communities. All donations received and distributed are meticulously recorded and to date, more than 1 500 000 meals have already been sourced by the pantry for distribution across the seven municipalities of the Garden Route and the Klein and Central Karoo regions.
Van Blerk encourages the local business community to support the efforts of the food pantry, by discussing the benefits of Section 18A tax certificates with their accountants. Further information can be obtained by calling 082 826 0731.